Shop for Electricity and Natural Gas in the PECO Footprint
Compare PECO Utility Rates and Save.
Enter Your Zip Code to Shop for Ohio Natural Gas or Electricity Rates
About PECO
PECO dates back to 1899 when 18 electric companies merged to form the Philadelphia Electric Company. In the 20th Century, PECO expanded its operations throughout the city of Philadelphia and into the surrounding counties. Then in 1996 to comply with Pennsylvania deregulation, PECO sold off its generation divisions to focus on delivering energy to its nearly 2 million customers in in the greater Philadelphia area, becomingthe largest electric and natural gas utility in PA. As part of Exelon, PECO delivers energy and aids organizations that support education, the environment, arts and culture, and neighborhood development programs.
PECO Service Territory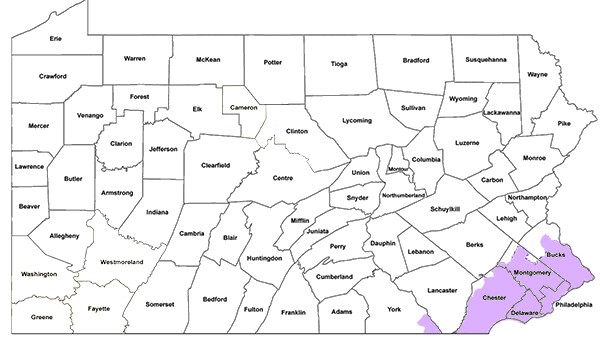 PECO serves approximately 1.6 million electric customers and more than 511,000 natural gas customers in the City of Philadelphia and some or all of these southeast Pennsylvania counties:
| | | | | |
| --- | --- | --- | --- | --- |
| Bucks | Chester | Delaware | Montgomery | York |
PECO serves these cities in southeastern PA:
| | | | | |
| --- | --- | --- | --- | --- |
| City of Philadelphia | Chester | Doylestown | Media | Norristown |
How to Start New PECO Service
Starting a service with PECO is easy and convenient. Just visit the PECO web site to start, stop, or move electric and/or gas service.
Customers can also set up service by calling PECO customer serivce (1-800-494-4000).
All electric service connections and disconnections are processed starting at 8 AM and are performed remotely.
Be ready to supply:
Service Address: The address where you want your service turned on or switched.
The start date for electricity service.
Personal Information: You will need to provide your Social Security Number or driver's license information.
Will I need to pay a deposit?
All Pennsylvania electric utilities can charge a deposit based on a customer's credit worthiness. The amount cannot be greater than two months of estimated usage. Customers have 21 days after the utility sends the deposit request notification to make a payment. However, customers have three months to pay the full deposit.
PECO will do a soft credit check to determine if you will need to pay a deposit.
Tip -- Don't forget to unfreeze your credit! If any major credit agencies hold a frozen credit account for you, they need to be temporarily unfrozen before you submit your service request.
If based on your credit history, PECO determines that a security deposit is necessary, they will notify you in writing within 3 business days. They'll also include the specific reason why they're requesting a deposit.
Not all customers must pay a security deposit, and in some instances, the security deposit may be waived.
Customers can contact PECO customer service at 1-800-494-4000 or via the PECO Customer Service webpage.
Understand Deregulation in Pennsylvania
When Pennsylvania deregulated its energy market in 1997, customers were allowed to shop around for their electricity supplier, rather than be bound to the local utility rate. Under PA deregulation, utility companies like PECO Power that wanted to participate in the consumer choice market were obliged to sell off their generators, becoming distribution companies instead.
To protect energy customers from service disruptions the PA PUC requires PA utilities to provide electricity supply at a default rate without mark up to customers who choose not to shop for a retail supplier.
These utility default rates are also called the "Price to Compare" or PTC. These default rates are overseen and must be approved by the PA PUC.
What is the difference between PECO and a retail electricity supplier?
The primary difference between PECO and an electricity supplier is that PECO owns and maintains the distribution network in its service area. This includes all of substations, poles, lines, and meters that bring electricity to your home.
Customers should contact PECO when they have a problem with their billing or cannot pay the amount due according to their monthly statement. In case of an emergency or outage, Customers should also contact PECO at 1-800-841-4141 or through their current electric outages webpage.
Lastly, PECO is the "last resort" supplier if your supplier stops serving customers in PA. This way, your electricity service will not be interrupted if your supplier leaves the state.
What are PECO delivery and supply charges?
Pennsylvania residential customers now pay separate charges for the cost to deliver their electricity and for the amount of electricity supply that they use.
Because PECO owns and maintains the distribution network, all electricity customers must pay a fixed distribution charge (sometimes called a "tariff"). This way, all PECO customers pay the same distribution rate (depending on their service class) no matter which supplier they have.
Utility distribution rates are overseen by the PA PUC and can periodically change. Assuming an average usage of 864 kWh per month, the PECO distribution portion of a monthly bill could look like this:
| | | | |
| --- | --- | --- | --- |
| | Rate of $0.06609 per kWh | Monthly Customer Charge | Total |
| Monthly Distribution Charges (excluding riders) | $57.10 for 864 kWh Used | $9.98 | $67.08 |
The supply charge is the amount you pay for the electricity that you actually use. PECO customers may choose the "Price to Compare" (PTC) for their electricity supply. However, PA consumers can also choose to buy electricity from competitive retail electricity suppliers.
Retail electricity suppliers purchase energy from generator companies on the wholesale markets. They then sell this power to their customers to use. Rates vary between competing retail suppliers and this acts as an incentive for companies to keep their prices as low as possible. Customers can switch to a new retail supplier at any time but may incur an early termination fee if they break a contract with a retailer.
What is the PECO Price to Compare (PTC)?
The Price to Compare is the price the utility pays generator companies for electricity. It includes the price to generate the electricity, as well as the cost to transmit it over high voltage transmission power lines to PECO's local electrical switch yards. From there, the electricity is distributed throughout the PECO grid and delivered to businesses and homes.
Currently, twice-a-year auctions are held to cover four delivery periods. As a result, PECO's PTC rates change every March 1, June 1, September 1, and December 1. When the auctions are completed, the PAPUC must approve the prices for both the generation supply and transmission.
For customers, PECO's PTC rates change every three months. That means the PTC electricity rates fluctuate throughout the year and can vary with the seasons; low some months, and higher during others.
How much does PECO supply cost?
Understand your PECO Bill
Your PECO bill includes a substantial amount of information that may be confusing to customers. But understanding your bill can give you great insight into your usage and rates. To help you better understand, we break down the most important bill items below.
PECO Sample Bill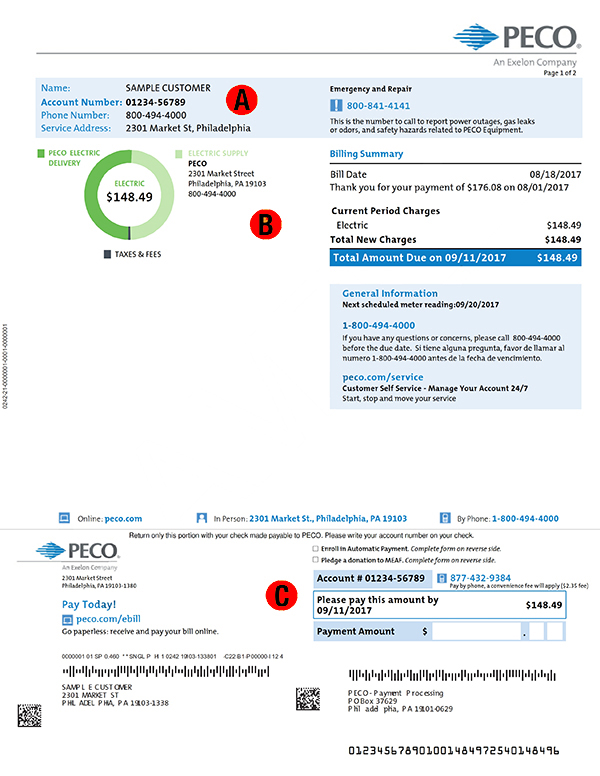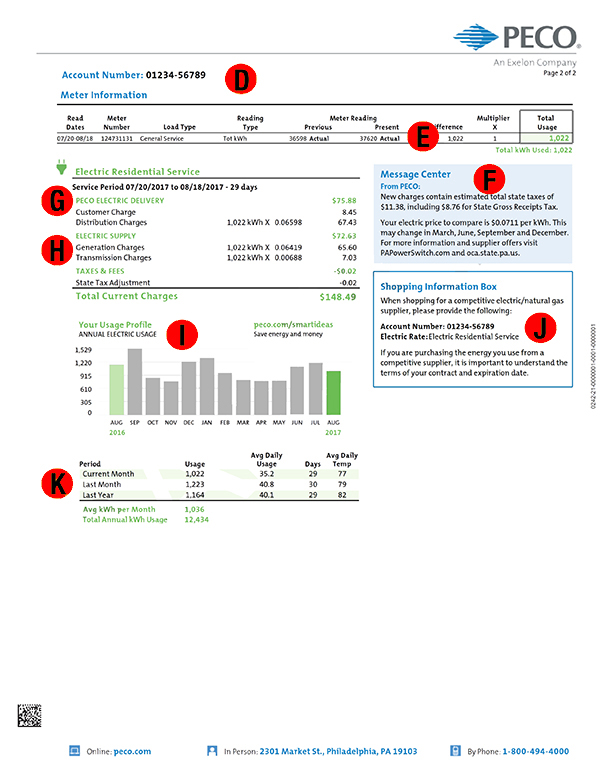 A: Billing Information includes your name, service address, phone number and your 10 digit PECO account number.
B: Billing Summary shows the bill's date, billing period, and the current charges due. It also shows the amount paid in your last bill. The General Information line shows the date of the next meter read.
C: Billing Payment Mailing Stub lists the amount due, the due date, your service address, and your 10 digit PECO account number.
D: Page 2 begins with your 10 digit PECO account number at the top of the page.
E: Meter Information shows your usage as measured by the electric meter at your address during the billing period.
F: Message Center shows information about important notifications from PECO.
G: This section lists PECO's monthly customer charges, the delivery charges and rate, and your total PECO charges that are due.
H: The Electric Generation Supplier section breaks down your energy usage charges for PECO's PTC or your retail supplier.
I: Here you can compare your usage history over the course of the past year. This way, you can better understand your usage habits.
J: This is your 10 digit supplier agreement ID number and your service type. Use these when yo switch to retail supplier.
K: The breakdown of your current month's usage. It includes average daily temperatures so you can gauge how well your home heats and cools.
PECO Coupons, Energy Promotions, Discounts, Rebates and Promo Codes
As your local electric utility, PECO offers several rebate and energy efficiency programs to help customers reduce their monthly bill by upgrading their home's energy performance. Some programs also offer money-saving incentives while others could make paying your monthly bills much easier during those expensive winter months.
Program Name
Program Type
Benefit
Appliance and HVAC Rebates Program
Energy Efficiency Rebate Program
PECO customers working with a participating Electrical Association of Philadelphia (EAP) HVAC contractor can take advantage of rebates on the purchase of ENERGY STAR certified water heaters, washers, dryers, refrigerators, freezers, ventilation fans, and dehumidifiers. Rebates range from $25 to $400.
LED Instant Rebate Program
Energy Efficiency Rebate Program
PECO residential customers can get instant rebates on LEDs by shopping the online PECO Marketplace or in the lighting aisle at Philadelphia area stores.
Energy Efficient New Homes
Energy Efficiency Rebate Program
PECO is working with area builders who are constructing energy-efficient homes that are 15% to 50% more energy efficient than other new homes. PECO New Homes Program can qualify new construction for special Energy Efficient Mortgages.
Residential In-Home Energy Assessment
Energy Efficiency Rebate Program

PECO's low-cost Home Energy Assessment Program will inspect your home for energy efficiency improvement and:

Install energy-saving products for free.
Recommend energy upgrades that qualify for rebates.
Electricity-heated homes are elligible for the in-depth Energy Assessment PLUS program.

Low Income Usage Reduction Program
Residential Energy Efficiency
Provides a free energy audit to PECO customers using more than 600 kWh per month to find ways to reduce their electric bills with weatherization and conservation.
PECO Payment Arrangements
Bill payment assistance
PECO offers payment arrangements to allow residential customers to pay their account balance in monthly installments based on the amount of the balance, income, household size, and your history with prior payment arrangements. Contact customer service or sign up online.
PECO Gift of Energy
Bill payment assistance
Give a gift to a friend or family member by making a payment their PECO bill.
LIHEAP Cash and Crisis Grants
Bill payment assistance
LIHEAP available from early November through early April. The program is available to eligible customers whose income is 150% of the Federal Poverty Level or below.
Matching Energy Assistance Fund (MEAF)
Bill payment assistance
PECO matches customer donations to the MEAF fund to provide help to limited-income households. The maximum grant amount is $500 but must bring the past due balance to zero.
Customer Assistance & Referral Evaluation Service (CARES) program
Bill payment assistance
You may qualify for CARES if you are experiencing a temporary hardship and want to work with a CARES representative. Call PECO Universal Services at 1-800-774-7040.
PECO Customer Assistance Program (CAP)
Bill payment assistance

PECO's Customer Assistance Program (CAP) can give you a monthly credit on your PECO bill. The credit is based on your household's gross income and energy use. To apply, customers will need to supply the following information:

Address and phone number associated with your PECO account
Full name and birthdate of each household member
Proof of income during the past 30 days for each household member.

You must use PECO for your electric and natural gas supply to qualify. You cannot be enrolled with a competitive supplier.
How to Shop for Retail suppliers
Unlike PECO, retail electricity suppliers in PA shop for bargains and set up deal on the wholesale electricity market. So their rates are not dictated by Pennsylvania Public Utility Commission (PA PUC) the same way that PECO and other local utilities are. This gives PA shoppers access to a number of different rates, plan lengths, and plan types.
While PECO's PTC rates change every 3 months, the PTC provides a useful baseline figure when you shop electric rates. This makes it a useful tool for comparing the value of short term and long term retail supplier plans.
When you're shopping for retail suppliers, you can choose variable rate plan or a fixed rate. Both types of plans have their pros and cons. That's why it's essential to carefully consider which type of electricity plan is right for you.
Variable rates change often to reflect market prices. Typically, variable rate plans run month-to-month and do not have a contract. However, their rates can fluctuate monthly; low some months, higher in others.
Fixed rate plans charge you the same rate throughout the course of your contract. While you may pay more with a fixed rate plan when market rats are low, they usual save you money because the fixed-rate protects customers from seasonal PTC rate hikes and energy price spike. Plans run usually between 3 and 36 months. However, if you need to terminate the contract early you may need to pay an exit fee.
Electricity retailers offer a wide range of different plans to suit different customers. Some suppliers offer plans with renewable energy sources or other greener options such as investing back into solar or wind energy. Additionally, keep an eye out for any kind of perks or deals you may be able to take advantage of. Some retailers may offer reimbursement in the form of gift cards, discounts, or specialty pricing if conditions are met.
If your fixed rate plan has expired and you're shopping again, don't expect to find the same rate! Remember that the PECO PTC rate changes 3 times per year. And while energy prices change all the time, rates tend to dip during the fall and spring. Those months are typically the best time to shop the best rates.
PECO Shopping Questions
When you're comparing retailer rates to PTC rates, you need to keep more in mind than just the price. The best way for a PA energy customer to avoid making a bad choice is to ask the right questions. When you shop electricity suppliers, always be sure to ask these important questions:
Is the rate variable or is it fixed?
How long is the contract?
Is the rate competitive with the current PECO supply rate?
Does the plan's contract term last longer than PECO's PTC rate?
Are there any recurring monthly charges?
Are there any restrictions on the offere such as like new customers only, active military only, seniors only, etc.
Does the plan have an early cancellation fee?
Are there any incentives or rewards programs? If so, are they something you can use?
Does the contract automatically renew? If so, what can you expect? What are your options when it does expire?

Compare Current supplier Rates!

Enter Your Zipcode

Simply enter your zipcode, and select your local utility to find the latest plans and rates for your area.

Pick A Plan

Browse from among the best plans and energy providers in the PECO region.

Enter Your PECO Account Number

Don't have it handy? - Don't worry!

Start Saving

According to the Pennsylvania Public Utility Commission, on average, customers who switch to a competitive supplier can expect to save about 10% to 15% compared to the price-to-compare.

Shop For The Lowest PECO Utility Rates:
Table of Contents:
Shop for the Best PECO Electricity Rates
Compare the Best PECO Natural Gas Plans for Your Home