Shop for Electricity and Natural Gas in the Duquesne Light Company Footprint
Compare Duquesne Light Company Electricity Rates and Save on Your Utility Bill.
Enter Your Zip Code to Shop for Ohio Natural Gas or Electricity Rates
About Duquesne Light Company
Duquesne Light Company (DLC) serves the Pittsburgh metropolitan area through its transmission and distribution network powering more than 600,000 residential and business customers. The company traces its origins back to the Allegheny County Light Company founded in 1880. Between 2011 and 2021, DLC invested more than $3.1 billion into infrastructure and technology upgrades.
Duquesne Light Company Service Territory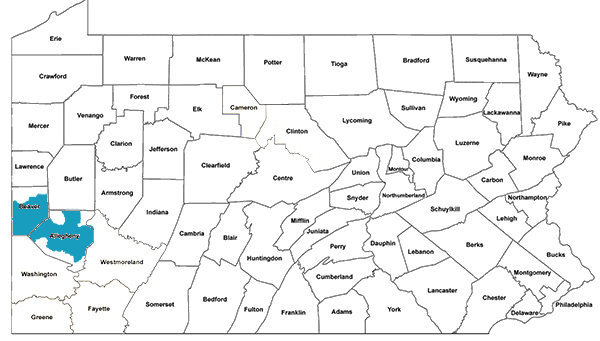 DLC delivers electricity to nearly 600,000 customers in some or all of Allegheny and Beaver counties in southwestern PA.
Duquesne Light Company serves these cities:
Aliquippa
Beaver
McKeesport
Monroeville
Pittsburgh
How to Start New Duquesne Light Company Service
Setting up DLC services is quick and simple. The first step to starting DLC electricity service is to fill out the DLC online form. New customers can also apply by calling the DLC customer service center at 412-393-7100. It may take DLC up to least three business days to start service, so contact DLC at least that far in advance of needing your service.
You'll need to give the following information when you apply for service:
Name
Date of birth
Address where electricity service is needed
Phone number
Social Security number
Will I need to pay a deposit?
Pennsylvania electric utilities can charge a deposit based on a customer's credit worthiness. The amount cannot be greater than two months of estimated usage. Customers have 21 days after the utility sends the deposit request notification to make a payment. However, customers have three months to pay the full deposit.
Customers can contact DLC customer service at 412-393-7100 or via the Duquesne Light Co. Customer Service webpage.
Enter Your Zipcode
Simply enter your zipcode, and select your local utility to find the latest plans and rates for your area.
Pick A Plan
Browse from among the best plans and energy providers in Duquesne Light Company.
Enter Your Duquesne Light Company Account Number
Don't have it handy? - Don't worry!
Start Saving
According to the Pennsylvania Public Utility Commission, on average, customers who switch to a competitive supplier can expect to save about 10% to 15% compared to the price-to-compare.
Understand Deregulation in Pennsylvania
In Pennsylvania, residential customers now pay separate charges for the cost to deliver their electricity and for the amount of electricity supply that they use.
When Pennsylvania deregulated its energy market in 1997, each utility taking part had to sell off their generators and become delivery-only companies. However, the PA PUC requires utilities to provide electricity supply at a default rate without mark up to customers who choose not to shop for a retail supplier.
Utility default rates are also called the "Price to Compare" or PTC. These are overseen by the PA PUC.
What is the difference between Duquesne Light Company and a retail electricity supplier?
DLC maintains the local electricity distribution network of poles, lines, and meters. As a result, all customers pay the same distribution charges assessed by DLC no matter which retail company supplies their power.
Utility distribution rates are overseen by the PA PUC and can periodically change. Assuming an average usage of 864 kWh per month, the DLC distribution portion of a bill could look like this:
| | | | |
| --- | --- | --- | --- |
| | Rate of $0.060233 per kWh | Monthly Customer Charge | Total |
| Monthly Distribution Charges (excluding riders) | $52.04 for 864 kWh Used | $12.50 | $64.54 |
Retail electricity suppliers sell the actual power a customer consumes. Rates vary between competing retail suppliers. Customers can switch to a new retail supplier at any time but may incur an early termination fee if they break a contract with a retailer.
Supply charges reflect the price for electricity a consumer uses. Duquesne Light Company customers may choose the "Price to Compare" (PTC) for their electricity supply. However, PA consumers can also choose to buy electricity from competitive retail electricity suppliers.
Customers should contact DLC when they have a problem with their billing or cannot pay the amount due according to their monthly statement. They should also contact DLC when the power goes out or there is some other electrical emergency such as a down power line.
What is the Duquesne Light Company Price to Compare (PTC)?
The PTC default rate shows the actual price a utility pays for the electricity. It includes the price to generate the electricity and the cost to move it from power stations over high tension power lines to DLC's local electrical switch yards. From there, the power is distributed throughout the DLC local electrical grid for delivery to businesses and homes.
Each utility's PTC rate is decided every few years during auctions to line up generation supplies covering specific delivery periods. As a result, DLC's PTC rate changes every 6 months on June 1 and December 1. This means these electricity rates may vary seasonally to be low in some months and higher in others.
Understand your Duquesne Light Company Bill
Your DLC bill includes a substantial amount of information that may be confusing to customers. To help you better understand your usage and where the amounts come from, we break down the most important items below.
DLC Sample Bill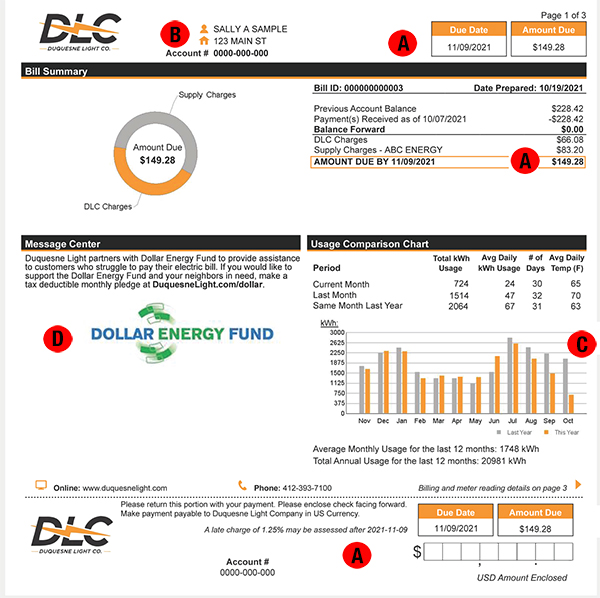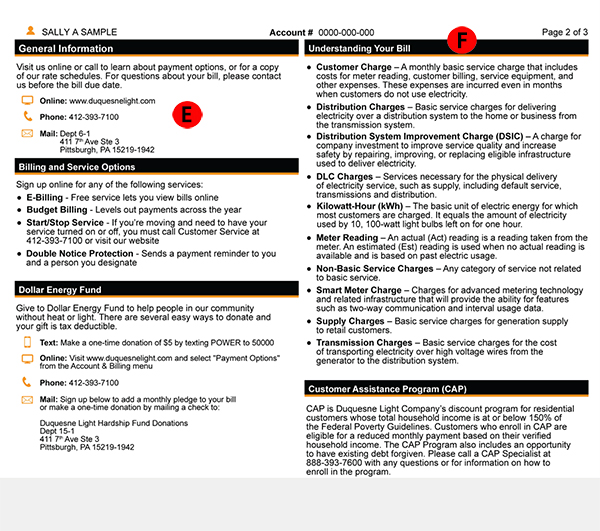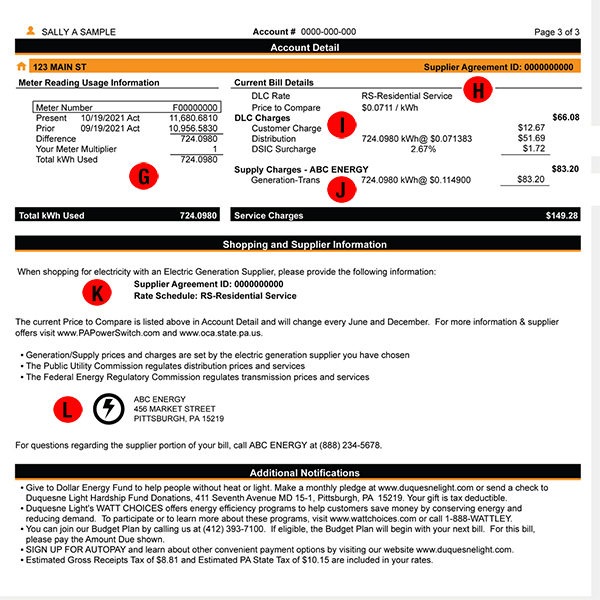 A: These areas show the bill amount and due date. You can also see the monthly account summary displaying the date the statement was prepared, the prior balance and payments made, balance still pending, and the current cycle's delivery and supply charges. At the bottom is the detachable payment stub for mailing containing the same information and your 10-digit DLC account number.
B: This shows the customer name, mailing address, and 10-digit DLC account number.
C: Here you can see a bar chart of your two-year usage history with each month shown on one bar. You can also see your total usage in kWh for the year and your average monthly usage.
D: The Message Center shows important information and announcements from DLC.
E: On the second page, you'll find information on how to contact DLC for questions about your account and for billing and service options.
F: This section defines key terms used on the bill and explains the various charges to your DLC account including customer charges, distribution charges, DLC charges, etc.
G: The third page starts with a detailed breakdown of charges to your account. It shows meter reading information for the prior and current reads.
H: The Current Bill Details section outlines the DLC service type and the current PTC rate.
I: This section explains your DLC charges including the customer charge and distribution charges. It shows the amount of your usage and the rate expressed in kWh.
J: This part shows your current supply charges from your retail supplier. It displays the amount of your usage and the rate you are charged in kWh.
K: To switch to a new retail electricity provider, you need to provide that new retailer with your 10-digit supplier agreement ID number. This is not the same as your DLC account number.
L: This section lists the contact information for your current retail supplier.
DLC Coupons, Energy Promotions, Discounts, Rebates and Promo Codes
As your local electric utility, Duquesne Light offers several rebate and energy efficiency programs to help customers save money off their monthly bill by upgrading their home's energy performance. Some programs also offer money-saving incentives while others could make paying your monthly bills much easier during those expensive winter months.
Program Name
Program Type
Benefit
Watt Choices Program
Energy Efficiency Rebate Program

DLC offers residential customers rebates for a wide array of energy-saving products including insulation, water heaters, HVAC systems, appliances, smart thermostats, and smart surge protectors. Rebates come in the form of a prepaid card.

Visit the DLC Energy Rebates website.

Watt Choices Program -- EnergyInsights ONLINE ENERGY AUDIT
Energy Efficiency Rebate Program

Active DLC residential customers who click on Detailed Analysis button and complete the EnergyInsights Audit receive a free Energy Efficiency Kit through by mail.

The kit includes 8 LED lamps and 2 nightlights.
The kit will arrive at your Duquesne Light service address in 6-8 weeks.

Enter your 10 digit account number to begin. Visit the DLC Energy Rebates Website.

Watt Choices Program -- DLC WHOLE HOUSE ENERGY AUDIT
Energy Efficiency Rebate Program

This is a professional audit with $435 fee which also includes installing LED bulbs, LED nightlights, smart power strips, and additional energy-saving equipment. Watt Choices reduces the cost through rebates up to $250 on the recommended installed measures. If your household meets income-eligibility guidelines, you will receive the audit for free. Call 1-888-998-9478 to schedule an appointment.

DLC Payment Arrangements
Bill payment assistance

DLC offers payment arrangements to let residential customers to pay their account balances in monthly installments. These installments are billed along with your current monthly charges. Both must be paid on time and in full every month.

Payment arrangements are determined by the amount of the balance, income, household size, and the customer's history with prior payment arrangements.
Contact customer service or sign up online.

Smart Comfort
Residential Energy Efficiency

Helps eligible DLC customers reduce their electric bills through conservation and home weatherization. To qualify, you must meet a minimum of one of the following three criteria:

Own your home.
Be a current electric heating customer.
Maintain continuous electricity service at your current residence for the previous six months.



Medical Certificate
Bill payment assistance

This will delay termination of electricity service for up to 30 days if you are eligible for a medical certificate or renewal and if you or anyone living in your home is seriously ill. DLC must receive notification in writing from a licensed physician, physician's assistant or nurse practitioner.

LIHEAP Cash and Crisis Grants
Bill payment assistance

The program is available to eligible customers whose income is 150% of the Federal Poverty Level or below. LIHEAP usually opens in early November and closes in early April.

Dollar Energy Fund
Bill payment assistance

Duquesne Light partners with Dollar Energy Fund to provide help to limited-income households.

The maximum grant a customer can receive from this program is $500.
Only one grant per program year is allowable.

DLC Customer Assistance & Referral Evaluation Service (CARES) program.
Bill payment assistance

You may qualify for CARES if you:

You are currently experiencing a temporary hardship.
Work together with a CARES representative.
Call Universal Services Center at: 1-888-393-7600.

There are no income guidelines to qualify for the CARES Program.

DLC's Customer Assistance Program (CAP)
Bill payment assistance

The Customer Assistance Program (CAP) is available to eligible customers whose income is 150% of the Federal Poverty Level or below. To apply, customers will need to give the following information:

Income information, including source of income, for all household members.
Names, social security numbers and birth dates for all household members.




Program benefits include reduced monthly payments, debt forgiveness, information about your electric use, and more.
Which suppliers are available in the Duquesne Light Company Service Area?
How to Shop for Retail Suppliers
Pennsylvania electric consumers may choose their own competitive retail electricity suppliers. These alternative suppliers shop deals on the wholesale market to offer competitive rates. Therefore, their rates are not dictated by Pennsylvania Public Utility Commission (PA PUC) the same way that utilities are.
The PTC rate is important to know when shopping Pennsylvania electricity plans as it provides a price for a set period of time to compare with retailer's prices. This way, you can compare the relative costs of electricity over both the short term and long term.
Retail suppliers can offer competitively priced fixed rate plans for a variety of term lengths. Though it can seem confusing, shopping electricity plans is a straightforward process. The key is finding the one that meets your home's power needs. That's why retail energy suppliers in Pennsylvania offer two main types of plans:
Fixed Rates have their price rate set for the same amount over the term of the contract. Customers can count on reliable energy rates on plans lasting from 6 months to 3 years. Many fixed rate plans come with early cancellation fees for breaking a contract before it expires.
Variable Rates have prices that can change from month to month depending on the price of the wholesale electricity. Though there's no contract, there's nothing to prevent your rate from skyrocketing one month or plummeting the next. These plans do not have early termination fees. This allows customers the flexibility to shop for new rates and to switch over to better deals without paying any penalty.
DLC Shopping Questions
The best way for a PA energy customer to avoid making a bad choice is to ask the right questions. That way, you can learn exactly the information that can save you money. When you shop for electricity service in Pennsylvania, always be sure to ask these important questions:
Is the rate variable or is it fixed?
Is the rate competitive with the current DLC supply rate?
How long does the plan contract term run?
Does the plan's contract term last longer than DLC's PTC rate?
Are there any recurring monthly charges?
Does the plan have an early cancellation fee?
Are there any incentives or rewards programs? Do they fit your lifestyle?
Does the contract automatically renew? If so, what are your options?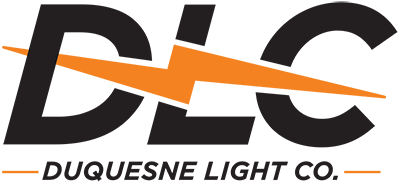 Table of Contents:
Shop for the Best Duquesne Light Company Rates
Compare the Best Duquesne Light Company Natural Gas Plans for Your Home